Work group members are encouraged to regularly participate in monthly, 60-minute web-based meetings. On occasion members will be asked to complete structured reviews and provide feedback outside of meetings (assignments typically require 15-30 minutes to complete). To register or for more information please log into the member portal or contact Customer Service for assistance. Not a member? Join today!
To register or for more information please log into the member portal or contact Customer Service for assistance. Not a member? Join today!
Connect with MCC
MCC staff looks forward to having good conversations with you in 2019.
MCC Summit Is Fast Approaching – Register Today!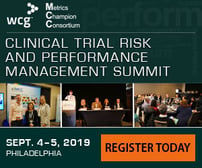 MCC 2019 Summit
September 4-5, 2019
Philadelphia, PA
Discover the secrets to implementing a successful metrics program. You'll unlock the secrets to deciding what to measure, establishing your data requirements, aggregating reliable data, designing easy to understand metric reports, and using metrics to identify areas of concern and conduct root cause analysis.
A sampling of what you'll explore during the information-packed day-and-a-half summit includes:
ICH-E6(R2): This international guideline continues to challenge contract research organizations, sponsors and others. How do regulators use data to determine where to conduct inspections? What challenges has risk-based quality management presented to others? How should you address such challenges? Get ready for answers from FDA, NHRA and EMA officials as well as industry top thinkers.
Squeezing Max Value Out of Data: Do your metrics answer the high-priority questions, reward the right behaviors, give you reliable time/quality readings? Speakers and panelist are ready with answers.
Data Quality: Designing data reports end-users can read and understand; aggregating in-house and CRO/vendor data; data governance and stewardship; and much more.
Predictive Analytics: Predictive analytics can help you with site selection, quality indicators and more. Discover savvy new ways to apply and test findings.
Critical Thinking Skills: Staff can be the weakest link. Discover creative new ways to move away from a "check the box" mentality.
Go to www.mcc-summit.com for more information.
Building Capacity for Patient-Centered R&D Workshop
Date: September 16, 2019
Location: Milken Institute School of Public Health at GW, Washington D.C. 20052
Session VI: Measuring Success—What does it look like?
Moderator: Roslyn Schneider
Session objective: Discuss how we can measure outcomes and effectiveness of patient capacity-building efforts and identify what aspects of capacity-building programs contribute to achieving success (e.g., clear focus on target audience, purpose/desired outcomes, method for deploying training, cost/sustainability, multistakeholder participation).
Matthew May, Programme Coordinator, EUPATI (invited)
Linda Sullivan, Co-founder and Executive Director, Metrics Champion Consortium (invited)
Risky Business Forum
Date: September 29, 2019
Location: Gilead Sciences, Uxbridge, UK
Session Title: "Risk Evaluation and Control – Meeting the Requirements of ICH E6(2). A worked example with Keith Dorricott, Metrics Champion Consortium Ambassador
Session Participant: Keith Dorricott, Contractor for Metrics Champion Consortium (MCC)
Clinical Trials Europe
Date: November 21, 2019
Location: Barcelona, Spain
Session Title: "The Impact of Risk-based Quality Management on Vendor Oversight"
Session Participant: Keith Dorricott, Contractor for Metrics Champion Consortium (MCC)