MCC's Clinical Trial Risk and Performance Management Summit is September 4–5, 2019 in Philadelphia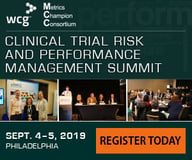 Discover the secrets to implementing a successful metrics program by choosing one of two tracks, vendor oversight or risk-based quality management. Listen to 14 industry experts, problem solve through breakout sessions, network with your peers and participate in demos. Early bird discount ends on July 25. Register today!



MCC Metric Selection Tools Available to Help Organizations Determine Which MCC Metrics to Use
MCC members have used a facilitated, structured approach to develop an extensive library of 300 portfolio, study and site level time – quality – cost metrics. How do you decide which metrics to use in your program?
MCC is adding four metric selection tools to MCC metric toolkits. View the six-minute webinar to learn more!

Clinical Operation Metric Update to Begin July 2019
MCC is establishing two work groups – Monitoring Metric Work Group (centralized and site monitoring metrics) and Site Selection & Start-Up Metrics Work Group (site selection, start-up and activation metrics).
MCC will begin the clinical operation metric updating process by focusing on two areas: monitoring and site start-up. MCC will gather information about performance management and metric usage in the two areas over the summer in preparation for launching the online work group meetings in October 2019. MCC members interested in participating in the metric update discussions can sign up for the work groups by selecting the appropriate option in your online user profile. MCC members can register for either of the October launch meetings on the MCC website.
Not an MCC member? Contact MCC Membership Director Terry Holland for information on becoming an MCC member.

Small Sponsor Knowledge Portal Launched to Support Small Sponsor Community of Practice
On June 4, MCC unveiled a new online Small Sponsor Knowledge Portal that includes resources such as short videos, implementation guides and links to relevant MCC resources.
The knowledge portal was established to provide a newly forming Small Sponsor Community of Practice with a single place to find MCC resources and for community members to share case studies, templates, etc.
The Community of Practice will meet online on a bi-monthly basis to:
Share ideas and practical approaches that work in small sponsor settings
Get up-to-date news about MCC Performance Metric Sets and Tools
Provide feedback about how MCC can support small sponsors
Learn from their peers
Halloran Consulting and other members of MCC community who work with smaller-sized sponsors have offered to participate in the online meetings to share insights and facilitate discussions. MCC will conduct a brief survey to gather input about future topics to be discussed by the members of the community of practice.

Clinical Operations Performance Management - Are You Measuring the Right Things?
To quote the late Michael Hammer in his famous article The 7 Deadly Sins of Performance Measurement: "…many of the operational metrics that companies commonly use make little or no sense."
Many organizations have measurement programs to monitor process performance in clinical trials. But often, the metrics used have just been added to over time. Do you know why you are measuring what you measure? What do you do with the results? Are there other more important metrics you should be considering?
View the one-hour webinar to learn how the MCC's metric sets and new metric selection tools will help you select the right metrics to help your business.